Blade
We can provide with various microtome disposable blades and trimming knives which serve for pathological works.
Microtome dispasable blade
Microtome disposable blades which are aimed to section the specimens at certain stable thickness require technical expertise such as sophisticated heating process, excellent polishing and coating techniques.
It is also required to maintain the high quality under precise controls with inspection instruments.
Muto's HISTO CUTTER is the product of advanced technologies.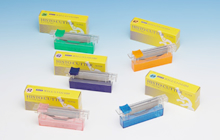 Trimming knife
Muto's Trimming knife enables to section semi-fixed organs easily. You may be surprise of its performance. This is because its raw material has been changed to the stainless steel from the carbon steel. Please confirm the efficiency of Muto's Trimming knife in the pathological works.